Seikichi Tamaya
250px


Age:

Around 16-18

Allies:

Enemies:

Hair color:

Brown, Orange

Eye Color:

Purple-Pink
Seikichi Tamaya is one of the main protagonists of Oh! Edo Rocket. He is a skilled fireworks-maker who dreams of making gigantic fireworks that no one has ever seen nor launched before. He is very hot-tempered and will get flustered easily. He was home schooled by his parents, who were most likely firework makers too.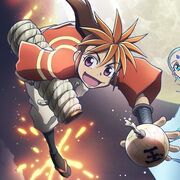 Ad blocker interference detected!
Wikia is a free-to-use site that makes money from advertising. We have a modified experience for viewers using ad blockers

Wikia is not accessible if you've made further modifications. Remove the custom ad blocker rule(s) and the page will load as expected.